INTERNATIONAL LASER CONFERENCE. 06/09/2019
6-7 SETTEMBRE, 2019 presso LA BADIRA LUXURY HOTEL - HAMMAMET
CORSO PER IGIENISTI DENTALI IN LASER E NUOVE TECNOLOGIE NEL DISTRETTO CRANIO FACCIALE. 10/05/2019
a partire dal 10 maggio 2019, Università degli Studi di Genova-DISC (Dipartimento di Scienze Chirurgiche e Diagnostiche Integrate).
STUDYCLUB Appuntamenti formativi live sull'odontoiatria laser minimamente invasiva.. 11/04/2019
11.04.2019 e 06.06.2019 presso Ospedale Policlinico San Martino pad.C4 - Genova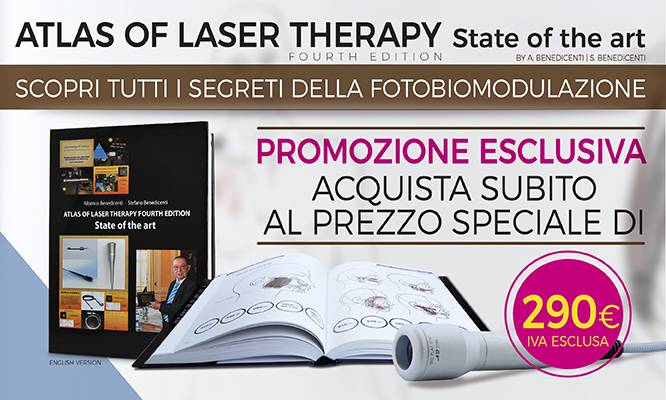 ATLAS OF LASER THERAPY - FOURTH EDITION - State of the art
codice LABOOK007
Benedicenti A. | Benedicenti S.
Edizioni Teamwork Media
470 pages – colour illustrations
Il libro per conoscere e approfondire l'utilizzo del laser a diodo associato al manipolo Onda Piana nelle molteplici applicazioni della Fotobiomodulazione, per la cura di patologie orali ed extraorali.
Part One - Laser Physic
Part Two - Experimental data on the effect of Diode Laser on human and animal tissue
Part three - Flat top hand-piece
Part Four - Clinical Aspects of Laser Therapy
Part Five - Clinical Case