LWS
Laser Whitening System
A WHITER AND BRIGHTER SMILE, IN ONLY 10 MINUTES. GUARANTEED!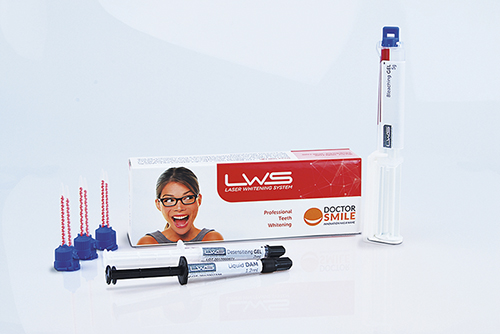 Lws Laser Whitening System
The LWS Laser Whitening System is a professional product for dental bleaching,
for use with Doctor Smile 980nm lasers. The whitening process is set on by the
photo-activation of the hydrogenperoxide contained in the LWS Laser Whitening
System. Laser light activates the product applied to the surface of each tooth, and
starts the release of free radicals. Their reaction with molecular pigments creates
a surprising whitening.
This kit contains:
1 Double Syringe of LWS 5g Bleaching gel 35% Hydrogen Peroxide
1 Syringe of LWS Desensitizing Gel
1 Syringe of LWS Liquid Dam
1 Tip for Liquid Dam Syringe
1 Tip for Desensitizing Gel Syringe
3 Mixtips for Bleaching gel