patient brochures, product descriptions and company material

Get to know laser dentisty and our dental lasers. Patient brochures, press reviews, product descriptions, company profile and much more…
For all the latest news regularly visit our news page, our FaceBook profile, and YouTube channel.
MATERIAL FOR PATIENTS AND DOCTORS
DISCOVER THE COMFORT OF LASER DENTISTRY – PATIENT BROCHURE
Tell your patients about the comfort of laser dentistry: Doctor Smile laser have made fear of dentists a thing of the past.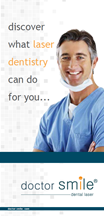 FACTSHEET FOR THE PATIENT: LASER IN DENTISTRY
Factsheet for the patient: Laser in Dentistry
Compiled for you by the Academy of Laser Dentistry
WAITING ROOM VIDEO
Show this video to your patients while they wait so they learn all about the advantages of laser dentistry!